Eating Free Food at the Office? It's Not so Healthy as It Turns out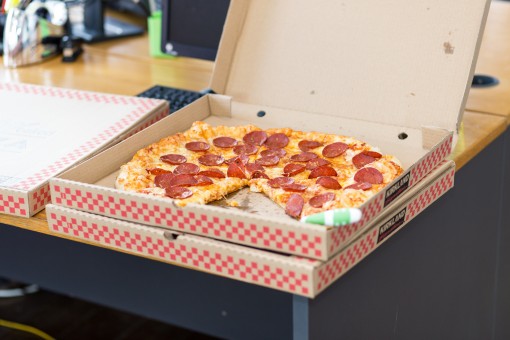 You know how you down that amazing cheese dip your office buddy always brings to work? What about Donut Day or motivational pizza parties? It turns out those free food favorites aren't helping us eat any healthier.
The facts about free food
In fact, the Centers for Disease Control and Prevention says the free food is nothing but junk—empty calories, sugar, and refined grains.
According to a press release from June, a study of more than 5,222 employees across the United States found that employees simply aren't eating well at work.
It figures. We're guessing the researchers wouldn't count Miss Sally's famous apple streusel muffins as a serving of fruit either.
Instead, the study shows that all those office parties and free snacks are adding up. This has been listed as an estimated extra 1300 calories per week. So if you're looking to lose a few pounds, you should look into laying off the work snacks.
Why so many calories?
It may have something to do with the amount of free food being offered. According to the study, over 70 percent of the calories consumed were totally free of charge.
Most people just won't pass up free food, especially not free lunch.. Who's going to be the last one withstanding the potluck line, especially when it doesn't dent your own wallet?
Stephen Onufrak, an epidemiologist at the CDC, says this research is the first national study of its kind. Considering the results, though, Onufrak is encouraging employers to establish healthier meeting or event options like whole grains and fruit.
What we don't know is whether bringing in apples and veggie dip in place of the free food like stuffed crust pizza will really fly with your desk buddies.